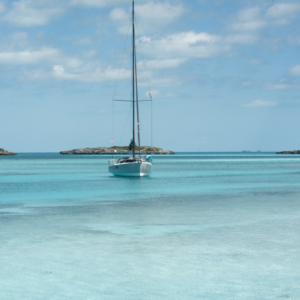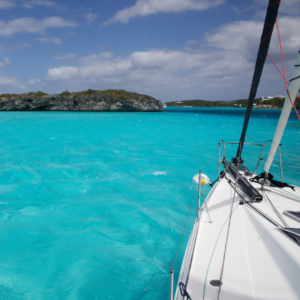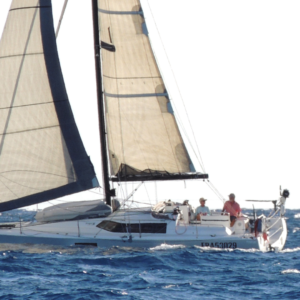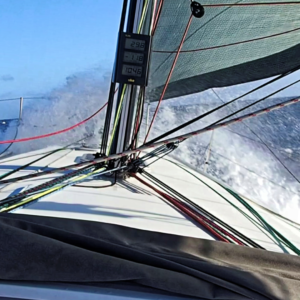 Eric, owner of a Pogo 36, tells us about his adventure aboard his sailboat "Amarys":
The meeting with Amarys
When I was young, I raced a lot in the Mediterranean as a crew member, before quitting sailing to devote myself to my family and my professional life.
In 2015, 2 years before retiring, I visited the Gand pavois in La Rochelle. My program: cruises in the Mediterranean, "Winter Challenge" type regattas, fast sailing and pleasure. I remember Gilles' words: "I don't have a plan to show you, nor a photo, but you'll see, the Pogo 36 will be a great boat! ". I trust him, and therefore order my first boat. I had no idea what it meant to join the Pogo "family".
In July 2017, I took delivery of Amarys and with 3 friends we sailed quickly to the Mediterranean via Gibraltar. Barely past Gibraltar, a pontoon neighbor comes to see me, he runs on a Pogo 30 and we exchange our phone numbers.
The beginnings of Amarys
As a family, we reach Italy near Livorno, our home port. We do the winter regattas, then finish 4° in the Regatta of the Naval Academy of Livorno (600 miles).
In early 2018, the person I met near Gibraltar offered me to do the return Transat on a Pogo 30, within a flotilla of 5 Pogo 30s. Great! During this return transat, I decided to do a transat with Amarys, it was the logical next step. The project: end of 2019 transat outward (ARC +), beginning of 2020, transat return (ARC return).
I decide to do some offshore racing to prepare myself and Amarys well. To run on a Pogo I easily find good level teammates.
Travel on board the Pogo 36 Amarys
May 2019: we win the crewed 900 Nautiques de St Tropez.

June 2019: we win the Naval Academy Regatta (600 miles).

September 2019: we are sailing with 2 couples: Italy, Balearic Islands, Spain Gibraltar, Madeira, Canary Islands.

November 2019: Transat ARC +: Canary Islands, Cape Verde Islands – St Lucia. We finish 3rd in the monohulls.

Early 2020: cruise with family or friends: Martinique, St Lucia, St Vincent and the Grenadines, Grenada, Dominica, Guadeloupe.

April 2020: Covid! Confinement in Guadeloupe and change of family situation. I decide not to return to Italy but to leave for a world tour.

June 2020: I bring Amarys back to Martinique for the hurricane season.
September 2020: with a friend we want to reach Panama by the South East of the Antilles. Despite 2 quarantines and numerous Covid tests, we are having a very nice cruise: Martinique, St Lucia (snorkeling and magnificent seabed), St Vincent and the Grenadines, Grenada. At this time they close Venezuela and the ABC Islands.
January 2021: we decide to go up the Antilles: Martinique, Guadeloupe, St Barthélémy (tomb of J Hallyday), St Martin, Dominican Republic (many whales), Turks and Caicos Islands. Bahamas (water color, beaches, beautiful seabed). At this time they close French Polynesia.
May 2021: we are very lucky and get a 10-year visa for the USA. With a new friend, we go up the East Coast of the USA from West Palm Beach to New York (exciting because we visit the places of the War of Independence and the Civil War). Arrival in magical New York (passing in front of the Statue of Liberty and Manhattan, etc.).
August 2021: descent from the east coast to Washington (very interesting city). Excursions by plane and car in the Yellowstone park (magnificent, bison, geysers, wolves, grizzly bears, bears, moose,…), and in the Great American parks (Las Vegas, Monument valley, Bryce canyon, Arches canyon,…).
November 2021: I'm going down Amarys to Norfolk to winter it.
January 2022: with a friend we go down Amarys along the East coast from Norfolk to Miami. We are very cold as far as Florida. We sometimes have down to -6°C at night, stalactites on the balm, the sheets and the jammers are blocks of ice,… I continue the descent by the American Keys.
February 2022: Cuba. Very interesting and very disturbing.
March 2022: Mexico. Stunning ! Mayan sites, senotes, Mexican cities,…
May 2022: crossing to Jamaica. Unfortunately, the autopilot broke down because water had entered an electronic box. Solo is a hassle! I dive to the north and anchor in front of the south coast of Cuba. By phone Laurent provides great technical assistance! Brilliant when you are in complicated situations. A big thank-you ! The weather has deteriorated, and after 3 days and nights of tacking with 30 to 45 N of wind, I cancel Jamaica and head for Panama.
June 2022: Panama.
Stay in France.
August 2022: "pedestrian" tour of Central and South America.
Continuation of the program:
January 2023: cruise as a crew member in Antarctica.

April 2023: crossing with Amarys and 2 crew members to Polynesia.
Eric's review
When the boat is going flat out (we peaked at 20 N), or when we are in a good storm, we are very happy to have a high-performance, robust, reliable and safe sailboat.
A huge thank you to all Pogo staff, both office and production people for their advice, their assistance, their seriousness in their work.
Signed: Amarys and Eric